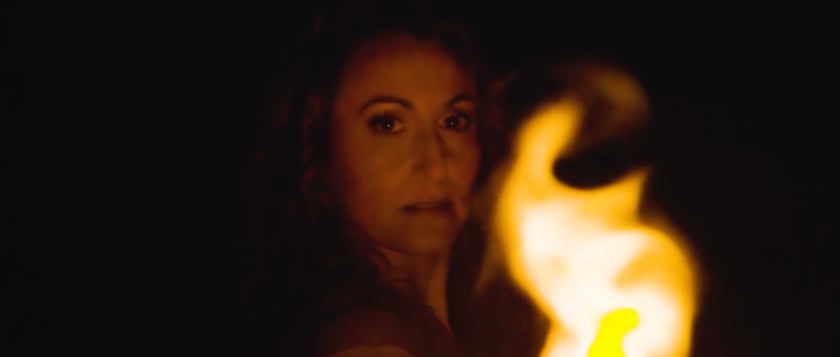 Order your copy of

and receive 2 juicy bonus gifts!
As you know all too well, there is a particular kind of insanity in the world that compels most women to stuff down, ignore, or hide parts of ourselves in order to be acceptable, attractive, or taken seriously.
Which doesn't work, of course. It actually ensures we remain unfulfilled, miserable, and at war with ourselves.
But what if you knew that you have it completely inside out and backwards?
That your true confidence and power are actually buried in the very parts you have disowned?
That you have literally been sitting on your truth and joy this whole time?
There is a path to the woman you are aching to become.
This path has no script, map, or blueprint (and, alas, no money-back-guarantee). This path is unruly, messy, and a wee bit naughty, and audaciously asks you trust the very parts of you that you previously warred against.
This is the path of

• Wake up, woman – and ditch your blind spots
• Tap into your inner knowing (under that tangle of shoulds and ought to-s)
• Meet your innate genius: the untamed, creative, and infallible wisdom of your body
• Quit betraying yourself (and while you are at it, other women, too)
• Feel confident in your body and comfortable in your skin
• Discover why your dark is not a mistake and how to find the gems in painful, difficult experiences
• Learn to use intuition instead of willpower and pleasure instead of restriction
• Brighten your everyday with hands-on practices
• Remember that you are not crazy – you are a deeply sensitive, sensual, intuitive, cyclical, feminine creature in a world built for the "masculine" in us all
Partly an irreverently reverent feminist treatise and partly a non-denominational devotional hymnal to the Sacred Feminine, Feminine Genius just might change forever what you know about your body, soul, sexuality, intuition, and power.
In a world that tells you ten thousand times a day how you are deficient and wrong, let me remind you that you are just right.
About your two juicy
Ready, Set, Know: Use Your Oracle to Source Your Clarity, Deepen Your Confidence, and Inspire Your Next Moves.
A DEEP DIVE INTO THE FEMININE GENIUS STRENGTHS OF INTUITION, CREATIVITY & SENSUALITY:
• The Feminine Genius strengths that most women never even know they have
• The simplest way to find your Oracle, your inner compass (even when it is buried in a tangle of shoulds and ought-tos)
•Why your Oracle is between your thighs and how it can become a remarkable source of clarity, confidence, and inspiration
• The perks (and challenges!) of making choices from your intuitive intelligence
• How to trust your life's journey - that you're not messing it up and it's all unfolding perfectly
• My personal, beloved practices for feeling comfortable in your own skin (which were too rebellious to make it into the book!)
When scripts, plans, and maps fail you, come find your inner compass.
To Support You in Creating a Women's Group to Journey Through Feminine Genius Together
A DEEP DIVE INTO THE FEMININE GENIUS STRENGTHS OF CONNECTION & COLLABORATION:
• Guiding questions to inspire group conversations as you go through the book
• My best practices for creating a gathering where every woman feels welcome, safe, and expressed
• A Facebook thread where you can share your photos and ah-has from your book club, and connect with other Feminine Geniuses
• And, since no gathering is complete without snacks and drinks, some of my favorite recipes with a feminine flair!
What if you want to buy more than one single ol' book?
Contact me if you plan to order 10+ books and we'll work out an additional, personalized bonus for you, such as a video training call or personalized coaching session.
Praise for
"If you wish to lead a more boundless, joyful life, I wish this book for you."
Amanda Steinberg, founder of DailyWorth, WorthFM, and author ofWorth It
"It's impossible to dive into these pages without coming out restored, refreshed, renewed, and connected to a power that has always been each of ours to own."
Regena Thomashauer, New York Times bestselling author of Pussy: A Reclamation
"Exactly what women need to remember who we are — which is what the world needs right now."
Kate Northrup, bestselling author of Money: A Love Story
"This book unraveled and re-wove the fabric of my femininity, and hence my humanity. Deep bow."
Mirabai Starr, author of Caravan of No Despair and Teresa of Avila: Passionate Mystic
"A powerful invitation for women to step into our biggest, brightest, truest, most powerful selves."
Alexandra Jamieson, co-creator of Supersize Me and author of Women, Food, and Desire
"Devour these pages and feel yourself shine brighter.  And then, as quickly as you can, introduce this book to all the women you love."
Amy Ahlers, bestselling author of Reform Your Inner Mean Girl and host of the Mama Truth Show
"A must for anyone (men too) on a path to wake up, be fully human, and to find the magic of being alive.  As more of us embrace the deep wisdom in this book, the more our species will heal and our culture will be in balance."
Mary Waldner, LMFT, co-founder & Chief Consciousness Officer, Mary's Gone Crackers®
"A courageous, wise, juicy book that redefines the genre of women's empowerment, providing just the right mix of spirituality, smarts, and sassiness to get the job done. Brava!"
Marc David, author of Nourishing Wisdom and The Slow Down Diet, and founder of the Institute for the Psychology of Eating
"An important spiritual feminist read."
Alisa Vitti, author of WomanCode and founder of FLOliving.com
"This book lays down the truth with such elegance and artistry that all who read it will blossom into the women we are longing to become. It's rare to say about a "self-help" style book, but it's truly breathtaking."
Alexis Neely, Family Wealth Lawyer and founder of New Law Business Model and Eyes Wide Open Life
"Feminine Genius vibrates with Shakti, sensuality, unflinching honesty, and fierce love."
Lisa Schrader, Women's Sacred Sensuality Coach, founder of AwakeningShakti.com, and author of Kama Sutra 52
"An important roadmap towards success in a post-patriarchal world, in which feminine wisdom is appreciated, respected, and rewarded just as much as masculine wisdom."
Michael Ellsberg, author of The Education of Millionaires and co-author of The Last Safe Investment
"Invaluable support for the unique twists and turns of your own initiation into Womanhood."
Sara Avant Stover, author of The Way of the Happy Woman and The Book of SHE
"One of the most potent books I've ever read. All I wanted to do was stay home and read it from cover to cover! I recommend every woman do the same."
Jena la Flamme, author of Pleasurable Weight Loss and creator of the Pleasurable Weight Loss movement
"From Shadow to Light, LiYana navigates the complexity of modern, patriarchal life to make room for the Sacred Feminine in us all - a genius the world cannot survive without."
Chantal Pierrat, founder of Emerging Women

is a torch-holder for a world-to-be in which feminine leadership flourishes and the epidemic of women self-haters has long become absurd.
As a coach, teacher, and speaker, LiYana supports women to find the full expression of their feminine strengths in work, love, and life. "Someone finally gets me!" is what most people say when they cross paths with LiYana, whether they are (as they have been) edge-cutting entrepreneurs, corporate professionals, artists, healers, social activists, mothers returning to work or balancing career with family, Fortune 500 leaders, and even a shaman or two.
LiYana works immersively with women in her mentorship program, Meant to Be: The Mastermind, as well as in private sessions. She connects closely with women in the virtual sphere via her signature course, Ignite Your Feminine Genius, and her Facebook community.
LiYana is a Holistic Health Coach, certified by the American Association of Drugless Practitioners. She also holds a certification in Core Strength Vinyasa Yoga, a BA in Dance Studies from SUNY Purchase, as well as a master's certification in Transformational NLP from NLP Marin. Her eyebrow raising work has been featured in the likes of Huffington Post, Forbes, Yoga Journal, Jezebel, and Emerging Women. LiYana also dances, paints in oils, grows fresh herbs on her windowsill, and makes home with her son.
- You've seen LiYana in -